Continental Roofing's commitment to a sustainable future makes us a leader in BC's commercial roofing industry. We are making efforts to continually reduce our carbon footprint by the way we run our business. In the image above, for example, Continental installed this light colored TPO roof which is believed to reflect heat, not absorb it like black EPDM roofs do, thus saving energy costs in the warmer months.
"Continental Roofing is the first large commercial roofer to become Climate Smart certified. They measured their third greenhouse gas (GHG) emissions inventory and during this period, they reduced their emissions from garbage by 26%.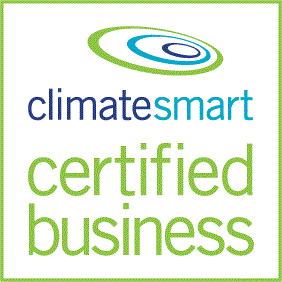 Their emissions from transportation has reduced by 23% and emission from paper consumption has reduced by 18%. Their reduction in emissions from transportation in largely due to a mobile app they use that allows their technicians to submit work remotely. Moving forward, Continental Roofing will continue to implement strategies aimed at reducing emissions from garbage, equipment, heat, and paper consumption."
For more information:climatesmartbusiness.com

Use a customized mobile app to improve fuel efficiencies and save paper.
Make a concerted effort to divert waste from the landfill by recycling and composting.
Encourage green practices in our office like recycling, turning equipment off when not in use and going paperless whenever possible.
Retaining insulation if it is in good condition or repurposing it if it cannot be retained
Engage in conversation with our staff, clients and other Climate Smart member companies to learn new and innovative ways to go green.
We'll use this page to track our progress and we encourage you to check in regularly to see how we're doing. We have no doubt that there will be challenges to reducing our carbon footprint but we are committed to making positive environmental change moving forward.